Do you want to get married on Veteran's Day? Is one of you in the military? Do you know someone in the military that you want to honor on your wedding? Then a Veteran's Day wedding is right for you! Here are tips and tricks to save money for a wonderful Veteran's day wedding!
Ask for a military discount if one or both of you are in the military. If they offer military discounts, the venue, florists, etc will all be happy to give them to you. Often, vendors will be more than happy to knock off a few hundred dollars.
Add a few lines to the ceremony that honor the vets. Not only is this an awesome way to appreciate what they have done for your freedom, it will surely appease military guests that are spending their veteran's day at your wedding.
Less is more, especially when it comes to the flowers. Too many flowers can be distracting and seem exaggerated. Opt for a few blooms not only for bouquets, but for centerpieces as well. An opaque vase is ideal and is available at most dollar stores.
Skip the groomsmen and bridesmaid gifts. These aren't traditional anyhow, and were marketed just for companies to make more money. If you're buying the dresses and suits that they will be using, they can consider that gift enough.
Display vendor cards for reduced rates. Grab a bunch of business cards from your bakery, cook, and more to get a discount. That way, guests will also know where you got your beautiful cake, delicious food, and gorgeous flowers!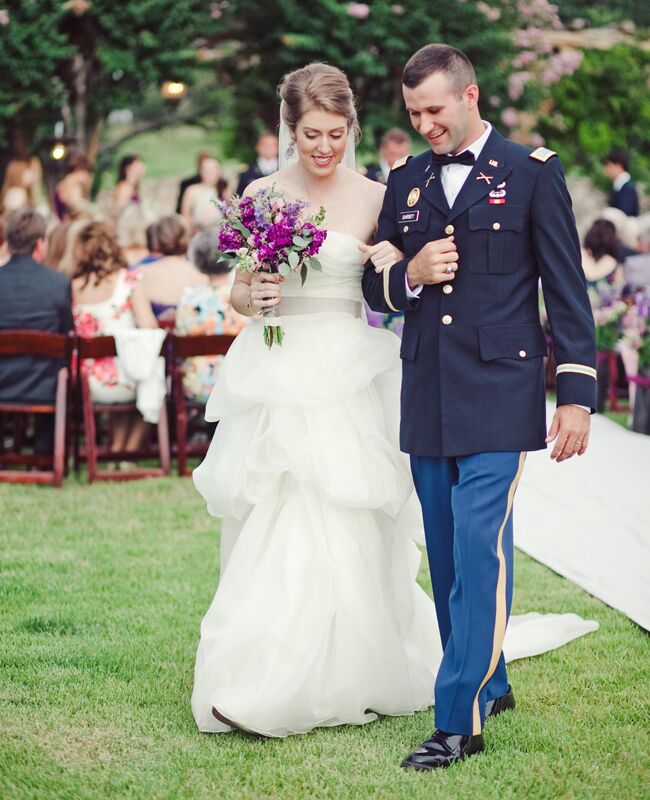 Buy a dress off the rack to save hundreds, even thousands of dollars. There are many gorgeous dresses in your size waiting for you to try on! Designers often make some to sell to bridal shops for brides to try on and buy. Don't let anyone talk you into buying a custom designer dress if that's not what you want. Don't be afraid to find a beautiful dress and buy it if you love it!
Not buying your suits? Rent them as a group and the shop may give you a group rate that would be cheaper if you rented them all individually. Bring the groomsmen to all try on their suits on the same day. The salesmen will be thrilled to have so many potential buyers.
Having a church wedding? Ask the ladies' auxiliary for help. They will be thrilled to help you with your wedding preparations for a small donation. This can save you hundreds, even thousands of dollars!
Got more advice to share? Have you had a Veteran's Day wedding and you have tips and tricks, or more facts to add? Comment below!