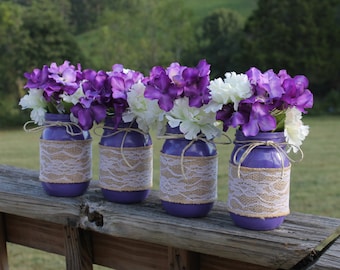 Mason jars are gaining popularity in weddings. They are appearing in ceremonies, receptions, even wedding parties. They can be useful in many different ways and can save you multiple trips to stores trying to find the perfect vase, container or lights. Just buy in bulk and you have several mason jars for each of your wedding needs.
Do you have a ton of mason jars laying around? Have you found a bunch at a discount or at a yard sale and want to know how you can put them to good use? Here are some ways to save money using mason jars.
Wedding Centerpiece. A simple, easy way to add a little elegance to your reception tables. You can just wrap the mason jar with rope and then fill with water and add blooms. You can also have lace, ribbon or even a chalkboard label on the mason jar to decorate it. You can also dye the jars, or add food coloring to the water. There are endless possibilities!
Drinking glasses. Put one mason jar per person with a tag attached for their name, and put up a sign stating this is their glass for the night. This saves from waste, too many dishes to clean, and littering. A green and eco-friendly option, you can add a little pizzazz by adding a ribbon, or poking a hole through the lid and adding a straw.
Souvenirs. Use a hot glue gun and spell out the words "Bride" and "Groom" on mason jars. You can even make some for your wedding party. Adorn accordingly. You can even drill holes in the caps and stick colorful straws through them.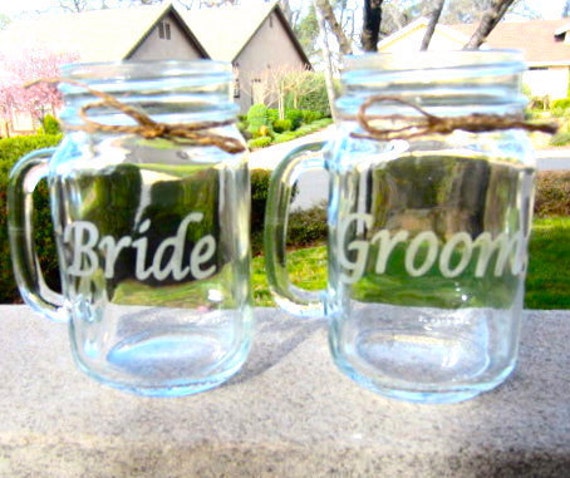 Aisle runners. Paint your mason jars any color you want, put a few blooms inside and place them along the aisle and voila! You have unique, colorful, and gorgeous aisle runners. You can save extra money by using silk blooms instead of real ones.
Cake topper. A fun, new idea for a cake topper is a pair of mason jars on top of your wedding cake. Fill with the beverage of your choice, and add straws. You can get cute photos of the bride and groom drinking from their respective jars. A good idea is to fill the jars up with lemonade. This symbolizes making lemonade out of lemons, a testament to a couple who has lived a hard life beforehand but now has their happily ever after.
Lights. A bit of water, a floating candle and a mason jar is all you need to make some naturally twinkling lights on your wedding day. You can hang them on the top of a bird cage, place them with a centerpiece, or line them along food tables.
Favors. Hot chocolate, cookie ingredients, brownie ingredients, etc. can be put in a mason jar measured appropriately. Attach a tag with the liquid ingredients necessary and the recipe and voila! You can also include other treats, like tiny mints with the tag saying "Mint to be", or fill it with popcorn with the phrase "thanks for popping by!"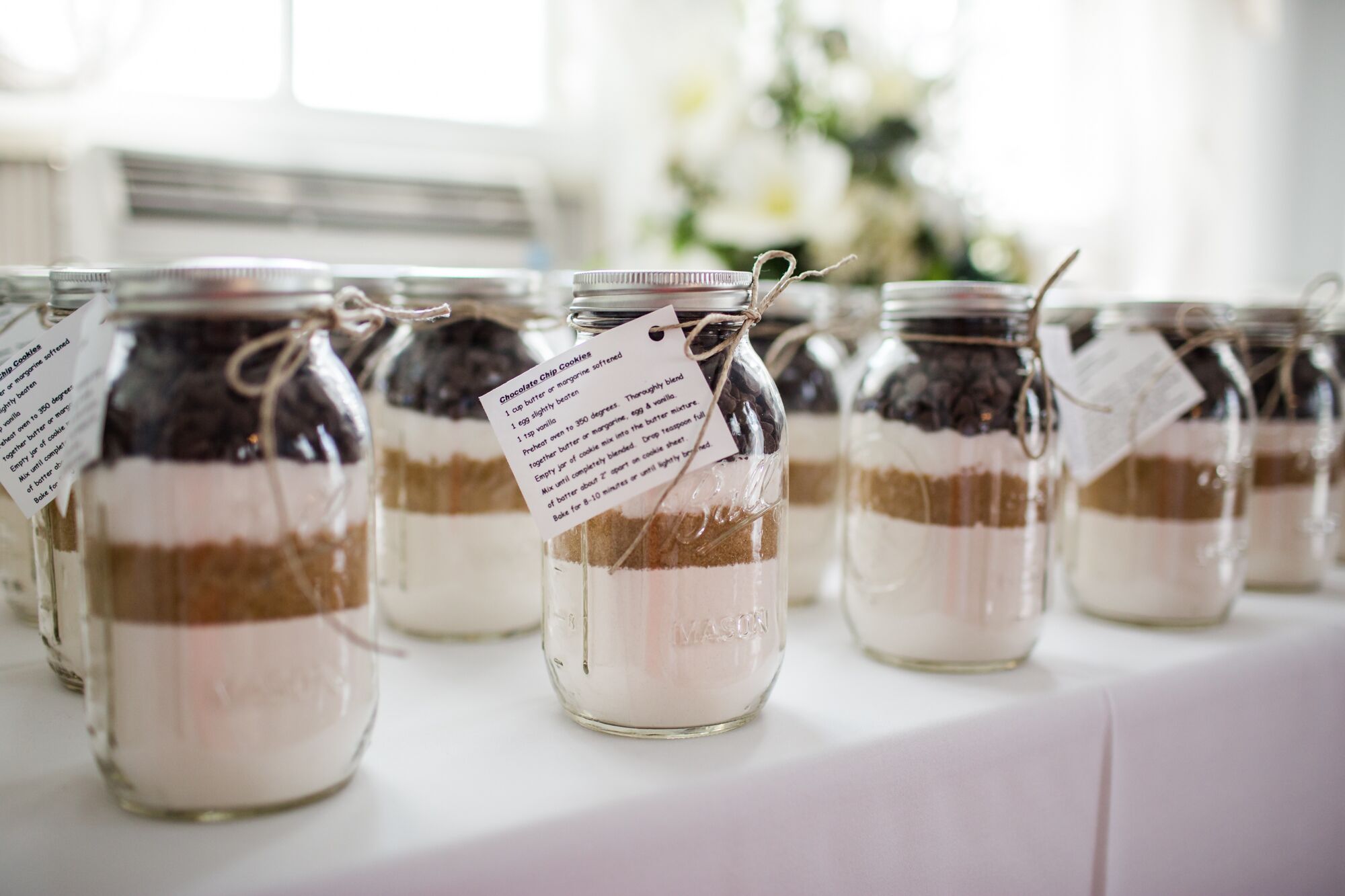 Candy bar. Use mason jars to hold candy for your candy bar. Line them up on a table and display them for all to see. Provide spoons or ways to scoop out and sample the candies. A candy buffet is great for a couple with a sweet tooth.
Crafts. Fill your mason jars with crayons, chalk, markers, etc and have coloring books, crossword puzzles and more at an activity table for the kids.
Desserts. Some weddings have a "just desserts" reception. These are perfect for mason jar treats. There are mason jar cakes, crisps, pies, brownies, even ice cream.
Meals. You can offer compact meals and snacks in mason jars. You can attach plastic silverware with a ribbon or rope. For a carnival theme, you can offer popcorn and candy as snacks, and fruit salad for brunch themed weddings. For meals, you can fill up on potato salad, egg salad, tuna salad, soup, spaghetti, macaroni, and more.
Do you have any ideas on how to use mason jars in your wedding that aren't listed? Comment below and share your wisdom.