Are you unsure of how to save money, but also have good food at your wedding? Are you not too picky about what foods you eat, even at your wedding?  Do you have it in your budget to rent a truck and the owner/cook that comes with it? Here is an idea; hire a food truck!
A food truck can be a simple, easy way to take care of the food at your wedding. It's reassuring instead of worrying about flies going after your outdoor buffet, or paying waiters at your indoor reception or worrying about a potluck wedding food getting cold. The food is cooked on site in the truck, the ingredients are already in there when they arrive on scene, and people can order what they want and have it made fresh and on-the-go!
Food trucks most often compliment these wedding themes:
Carnival theme. Serve up cotton candy and popcorn as well as fast food and you're all set! If you can't afford a food truck, you can always use a food truck or use a food stand.
Hippie theme. Along with chalkboards and mason jars, a food truck makes a great accent to the wedding.
Mexican theme. Hire a Mexican food truck to have all the spicy food you can handle! Great for states that are close to the Mexican border, also for Mexican weddings, South American weddings and weddings in Spain.
Picnic theme. Spread out blankets on the grassy earth and eat up your food truck goodies close to nature.
Pastel Vintage. Vintage weddings as well as pastel themes can go very well with food trucks. Food trucks are a fun, easy way to keep all the food sheltered and in the same place.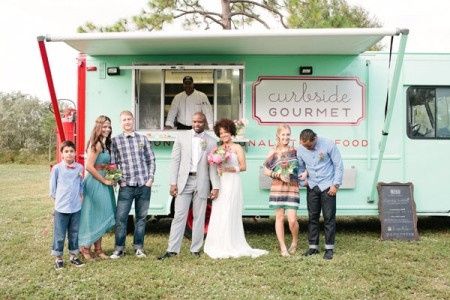 Rustic Chic. It can add a fun twist to an old-fashioned wedding. Food trucks can even have some gourmet meals and appetizers served up to your guests!
Italian theme. You can even hire a food truck that specializes in Italian food such as pizza and pasta! The options are endless!
The steps to having a successful wedding with a food truck in it:
Decide your wedding theme. Are you having a carnival theme? Green wedding? Vintage style? Make sure you know your theme if you want to have one.
Look up local food trucks in your area. Check the prices, the types of food offered, even the color of the truck if you want it to go with your wedding decor.
Make sure wherever you're having your wedding accepts food trucks on their property. Most venues will discourage it or have you pay a fee for bringing your own food if they offer their own food. Public parks should be checked when you get your license, as some don't even allow tents to be erected or barbecues, so this may apply to food trucks as well. This is why food trucks often go best if it's on a friend, your, or a family member's private property.
Sample some food from your final food truck choices. Get some meals and see how you like them.
Choose the cheapest you can while sticking to the type of food that you want. Talk to the vendor, book them on your wedding date, and make sure the cook and servers will be there as well.
Make a meal plan with the food truck so they will know what the guests will eat, and how many will be there. Decide if you are paying for every one's meals or if the guests will pay individually for their own food.
Have a fantastic wedding with little worries on the food!
Have you had a food truck at your wedding? Do you have any advice to offer engaged couples and brides-to-be? Share your comment below!