Sure, you've picked what your wedding hairstyle will be. But what will you put on your head? From the traditional veil to other options, here is a list of the most popular choices for brides who want to adorn their heads on their wedding day.
Bridal hairpiece.
Traditional veil. The history of wedding veils tells us that, in ancient times, the Greeks used it as a way of protecting the bride from evil spirits, while in Medieval times it was worn as a symbol of purity and chastity. The lifting of the veil was often a part of ancient wedding ritual, symbolizing the groom taking possession of the wife, either as lover or as property, or the revelation of the bride by her parents to the groom for his approval.
Veils are the most popular use of adornments for the head of a bride. Mostly due to tradition, brides often opt for this. They also grow up believing it's just another part of weddings as they see weddings in magazines, tv shows and movies, even their own family's photo albums. You can get a waist-length simple veil, or you can get one that has a train that trails behind you as you walk. You can have one just with the sheer material, or also have crystals, pearls, lace, and whichever else you'd like included into the design.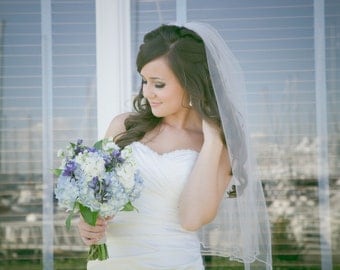 Flower crown. Increasing in popularity, the flower crown, also known as a wreath, stems from many different traditions, so it's hard to pinpoint it's true origin. Flower crowns have been worn in ancient Greece, China, Ukraine, America, as well as in the Victorian and Midieval eras. The Greeks wore them in ceremonies that honored the gods, while the Chinese wore them during weddings. It was popularized in Europe in the Victorian era.
Elegant, simple, beautiful; why not wear a beautiful crown of flowers on your wedding day?
Flower in the hair. We see it often in movies that someone tucks a flower behind their ear into their hair, so why not? Flowers are often used as a "signature piece" for hairstyles used in weddings.
Headdress. Often used in Celtic handfastings, headdresses can be just another accessory, or have specific meaning. In pagan rituals, the High Priestess and High Priest can wear a headdress to represent their high status and proximity to the Gods and the Goddesses.
Want to feel like a Goddess and like true royalty? Go ahead and adorn your head with jewels.
Veil headpiece. This is a modern take on the traditional veil and has an elegant feel to it. You can pair it with flowers and attach it to your hair, if it doesn't come in a headband.
Tiara. This can be paired with either of the other options. Often the choice at royal weddings, a tiara will make you feel like the princess that you are.
Versatile comb. Combs with crystals, pearls and diamonds can come in various designs, colors and gemstones to perfectly accessorize the perfect bridal hairstyle. Stick the comb into your strands and voila!