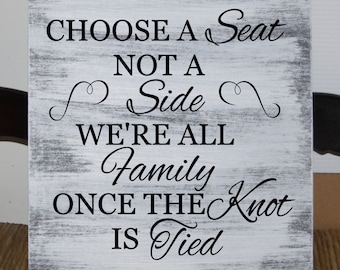 There is often a bride's side and a groom's side at weddings. Families of the groom and friends of the bride are kept at separate tables. Why add the extra costs and keep the families from socializing? Save hundreds on placement cards and seating diagrams for your wedding ceremony as well as the reception by having no seating arrangements. Guests may be expecting a seating plan, so let them know ahead of time that there will be none.
What can help with a lack of a seating plan is a cute sign letting people know they can choose to sit wherever. Here is how you can make one of these gorgeous signs!
Pick a phrase you'd like to be written on the sign. In this article, 5 different cute phrases are listed of how to let people know there is no seating plan.
Gather materials from Michael's. You can get a chalkboard sign ready to sell, or take palates of wood to paint on with stencils, paint and paintbrushes.
Adorn the chalkboard sign accordingly and use stencils to write the message beautifully.
Put the stencils on the wood and paint over them in the color of your choice, to write the phrase you have chosen on your beautiful sign.
Lean on something at the wedding, like a chair, and voila!
For the phrase that ends with "bride", it can be used for lesbian weddings as well and be altered to, "when the bride kisses the bride". If you are a gay couple, you can create your own phrase with the word "groom" in there twice. Here is an example: "We're all family in this room, once the groom kisses the groom!"
At the reception, you can prop the signs up against the cake table, food table, or even stick it on a door if it's an indoor affair. A simpler way is also to use a stick of wood and nail it to the sign so you can stick it in the earth so it doesn't move. This may be tricky on very dry or very muddy ground. You could always use wood to prop it on the surface of the ground like a frame on an end table.
Do you have any tips on how to handle a no seating plan? Do you have a sign that you used that you'd like to share? Comment below!