Lots of couples are looking for new ways to pose with their wedding party that incites laughter. Looking for some funny posts to strike when the camera is pointed your way? Here are some silly ideas for the wedding party post-ceremony. Say cheese!
This is a nice spin-off of the popular photos of the bride-to-be showing off her engagement ring and her girlfriends exclaiming how beautiful it is.
This photo takes into account that the bride and groom literally need the support of their bridesmaids and groomsmen at the wedding!
The humor in this photo is that the wedding party is sick of the newlyweds seemingly stuck to each other's lips in nearly every photo.
This is an adorable photo idea for high school sweethearts. Kissing against the lockers of their youth where they surely first met, and the wedding party posing in comical poses.
The bride wanting to shield the flower girl from the inappropriate behavior grown women indulge in while winding down after a stressful event.
The groom and groomsmen imitating the famous "slow-motion walks" that heroes and protagonists often do in movies and TV shows.
Increasing in popularity is groomsmen ripping open their shirts to reveal superhero logos underneath.
A silly photo of the groomsmen gathering together for a selfie with the groom.
A comical take of an arm-wrestling war with the men vs the women of the wedding party.
Some weddings have lawn games, so why not strike a funny pose with your bros?
For those who are comfortable with it, copping an innocent feel between besties can make a hilarious photo for the wedding photo album!
The wedding party gets loose in the dressing room!
The wedding party poses for silly portraits.
The bridesmaids, maid of honor and the bride pose in confidence like many actresses post for the cover of their latest movies.
An increasing trend is to have the wedding party run towards the cameraman, who later photoshops the "threat" of their choice behind them. It can be a dinosaur, godzilla, or straight out of Star Wars!
The ladies duck while the men jump up high! It appears they are all afraid of something. What did they see? A spider?
The wedding party steals the show by jumping for joy while the newlyweds kiss.
The groomsmen struggle to all get through the doorway at the same time.
Charlie's Angels poses for the bridesmaids!
No one wants to see that!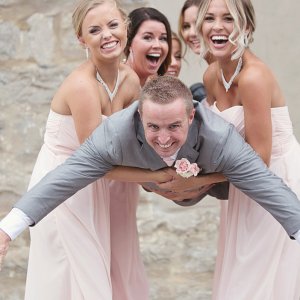 A spin on the traditional take of men carrying the women.
Some potty humor.
Who needs those uncomfortable shoes when you'll be walking around for hours on end?
Leg shots from the bridal party!
Some have special underwear made for the occasion.
Unconventional, but a hilarious photo for the adults!
A tug-of-war with the bride and the groom.
A champagne bottle sprays the wedding party!
Which is your favorite photo? Which silly poses have you used in your wedding photos? Comment below!