Courthouse and City Hall weddings are rising in popularity, especially with the rising price tags on venues, officiants, and decorations. Couples want to marry young, before their careers take off. Some just don't want to spend a lot of money on a ceremony and reception, others don't want to make a big deal out of being hitched. Perhaps you just can't wait to be married, and agreed to have a big wedding later. Maybe your fiance(e) wants a tiny, quiet courthouse wedding and you always dreamed of having a wedding at a venue with all of your friends, and you are trying to compromise. Whatever the reason, some judgemental people will roll their eyes when they hear that someone had a courthouse wedding. So here I give you ways to make those people's jaws drop when they see photos of your wedding!
Pick the courthouse. If you have this option, visit different courthouses to see what the building has to offer. Some have a nice arch with a few flowers on it that you can get married under. Some have fountains, statues, or other fun spaces to take photos with. The price will be the same, but you can pick the one that will be the prettiest to be married in.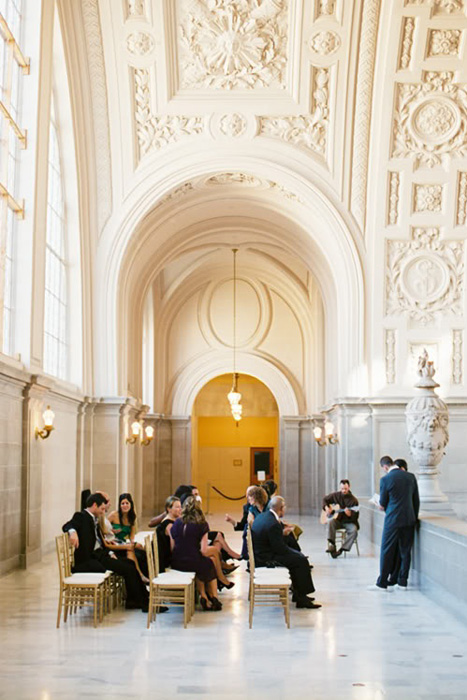 Wedding Invitations. You can still make great wedding invitations for those few who will be there to witness your ceremony. If you are having a reception afterwards and you are only having your 2 witnesses at the ceremony, you can make a wedding reception invitation and send it out to the people you want to invite. To keep it budget-friendly, you can make online ones here or go to your local dollar store and make DIY invitations!
Hire a Photographer. The right photographer can get the most amazing shots for your wedding. A courthouse affair gets the most unique, edgy photos. You can get some really intimate, romantic, and cool pictures for your wedding album! Here are some of my personal favorite shots.
Have a fancy ride. Rent a limo, rolls royce, or even a horse-drawn carriage to take you to and/or from the court house. Cheap option: ask a friend or a friend of a friend who owns nice wheels (mustang, audi, etc.) to drive you to and from your wedding. Of course, offer to pay for the gas that it would take to get there.
The Dress. If you choose to wear one, you can wear whatever you want! No one will give you any weird looks for wearing a black-tie affair wedding dress, and even if they do, you will probably never see them again so why sweat it? If you are going to have a big wedding later, take this oppurtunity to wear the dress that you love but thought was too casual or short, your mother's dress, the non-white dress you were dying to wear but tradition won over, a bridesmaid dress you love but never thought you'd wear again…the possibilities are endless!
The Suit. It doesn't even have to be a suit. A guy can get away with wearing a nice button-up dress shirt with trousers. Some guys like to add creativity factor and add suspenders and a bow tie.
Accessories. It's the little things. Don't skimp on the details, unless you want to accentuate simple, effortless beauty. Wear the jewelry, get those shoes, buy that veil. Don't be afraid to dream big for your look. Want to find great accessories for less? Check out Payless Shoe Source for foorwear, or ask friends and family that share your shoe size if you can borrow their kicks. Visit your salvation army or iParty for a veil, and find great accessories at the dollar store.
Flowers. For your bouquet and his boutonniere, browse your local flower shop and say you need flowers for a centerpiece at an anniversary party. Never mention that it's for a wedding, because the florists will automatically jack up the prices for a fast profit. Tell them what you want and add a little more than you would want in your bouquet, so you can take some out and make a boutonniere out of it. Don't have the budget for flowers? Head to your local dollar store and pick out all the fake flowers that you could ever want! After you two are hitched, toss the bouquet outside from the top of the stairs so your guests can catch it, and have your photographer catch the memorable moment.
Have a reception afterwards. Whether big or small, lots of people have a reception where more people are invited there than at the actual ceremony. If you got married at the courthouse so you could have the huge reception of your dreams, you can skip this part of this article. Looking to have a small party/reception after your wedding, while not spending lots? Ask a friend, family member, or friend of a friend if you can use their backyard to have a little get-together. You can also tell your guests to meet you at a public park, which usually will only charge a minimal fee for a license to have an event there. Worried that it won't be weather-permitted? Try reserving a room at a bed and breakfast and having a few of your friends and family come up to your room for drinks and cake. You can do the same with a hotel room, or reserve two adjoining rooms. You can also have a picnic or a barbeque with your guests. Not wanting a reception, but still want memorable photos of after your wedding? Go paint the town red in your wedding outfits. Go to a nice restaurant, go play golf, a museum, an art show, to the park where you first met…wherever you want!
The Cake. Get a one-tier cutting cake so you both can enjoy cutting it together. You can also have a cupcake tower, or a combination of both. Tasty treats are always wonderful to have to celebrate the newlyweds. In the old days, there were no sit-down dinners, a wedding was just a cake-and-punch reception. So don't worry about providing expensive meals.
The Honeymoon. Have extra money to spend on a honeymoon? Book a cruise to wherever you would like! Want something less expensive? Stay at a bed and breakfast, have a road trip and explore, go camping, go on a hunting trip, visit long lost family or friends, etc. The world is yours!