Sure, everyone has heard of the traditional wedding themes. You've been to your sister's rustic wedding, your cousin's barnyard country wedding, and your friend's beach wedding. Since you've been there, you know that these aren't for you. They don't fit your style. You want a unique wedding theme, something out of the ordinary, something that is non-traditional. Here are some ideas to get you started!
Sci-Fi Theme (Star Wars/Star Trek/Space Balls)
Superhero Theme (Marvel Comics/DC Comics)
Movie-Themed (Jurassic Park, Nightmare Before Christmas, etc)
Alternative Theme (Goth/Punk/Emo)
Music Band Theme (Kiss, Slipknot, Metallica, ACDC, etc)
Gamer Theme (World of Warcraft, Skyrim, Mario Bros, etc)
Fantasy Theme (Harry Potter/Wizard of Oz/Once Upon a Time)
Sci-Fi Theme
Superhero Theme
Go subtle: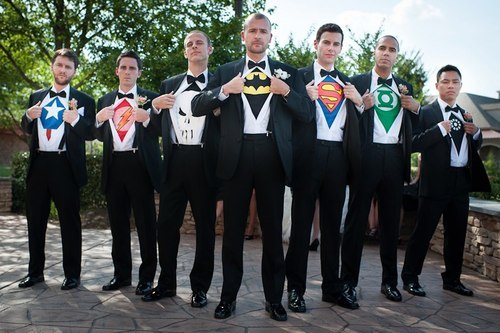 Or go all out!
Movie Theme
Alternative Theme
Music Band Theme
Gamer Theme
Fantasy Theme